ScaleCloud for MSP Public Cloud
ScaleCloud + Customer Management = Easy Cloud MSP.
Starting your own cloud MSP business just became a piece of cake.
ScaleCloud Prime is a cloud server that automatically builds your cloud in 20 minutes.
Team it with a hosting and billing front end and enjoy the freedom of a completely self-service storefront.
Start providing public cloud as an MSP at competitive rates.
Attach External Storage
ScaleCloud is capable of using your existing storage, if the 9TB it comes with isn't enough. Turning your storage into cloud storage.
Billing
ScaleCloud integrates with many front-end applications. Invoicing, receipting and credit control can all be automated.
Integrated Storefront
Brand your own white-label cloud services store, or let us do it for you*. then let your customers set-up and manage their accounts.
*additional charges apply
Customer Management and Automated Billing
Sit back and let your customers set up and manage their accounts when you team ScaleCloud with API based hosting and billing applications.
Stack Launcher is what sets ScaleCloud apart, it is only available on ScaleCloud.
Stack Launcher is ready to launch all of the OpenStack cloud services on to your ScaleCloud appliance in three simple steps
No technical skills required.
Stack launcher is your cloud architect, cloud engineer and cloud administrator.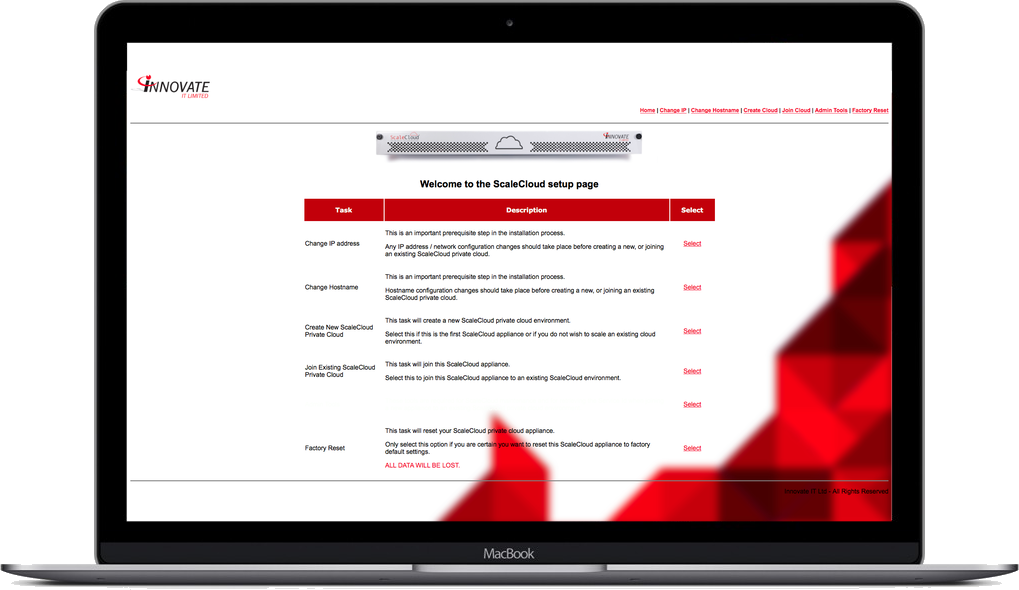 Connect To Existing Infrastructure Turn your storage into cloud storage
Connect to external storage directly from ScaleCloud.
Utilise your existing storage
Increase the storage capacity of your cloud
Option to launch cloud instances on high speed local ScaleCloud disks and on external storage
Create block volumes on local and remote disk
Enables remote off-site backup options
Replicate volumes and take snapshots using your network storage features
Request a ScaleCloud Brochure