ScaleCloud for Public Cloud
ScaleCloud + Hosting and Billing = Easy MSP.
Use one or many ScaleCloud Prime cloud servers to deliver cloud services, such as virtual private servers (VPS). The multi-tenant design, low cost and high capacity makes for a compelling business case.
Add your own storage turning your data centre storage into cloud storage.
Team it with a hosting and billing front end compatible with OpenStack APIs,  and enjoy having a completely self-service, white label storefront, with automated billing that interacts seamlessly with ScaleCloud appliances.
Automated Customer Management and Automated Billing
Sit back and let your customers set up and manage their accounts
Usage Based
Decide how you would like to charge your customers. The pay-as-they-use model is flexible. For example, the customer can vary the CPU, Storage or Network utilisation in an instant.
Subscription Based
The subscription based model allows you to create fixed priced products so you and your customers know exactly what the monthly costs are.
Customer Self-service
Completely self-service by your customer, ScaleCloud is a solid platform. So getting into the cloud services business just became a whole lot simpler.
Flexible Payment
Supports multiple currencies and payment gateways. ScaleCloud increases your speed of investment return, as its low cost makes you more competitive through higher margins*.
Stack Launcher is what sets ScaleCloud apart, it is only available on ScaleCloud.
Stack Launcher is ready to launch all of the OpenStack cloud services on to your ScaleCloud appliance in three simple steps
No technical skills required.
Stack launcher is your cloud architect, cloud engineer and cloud administrator.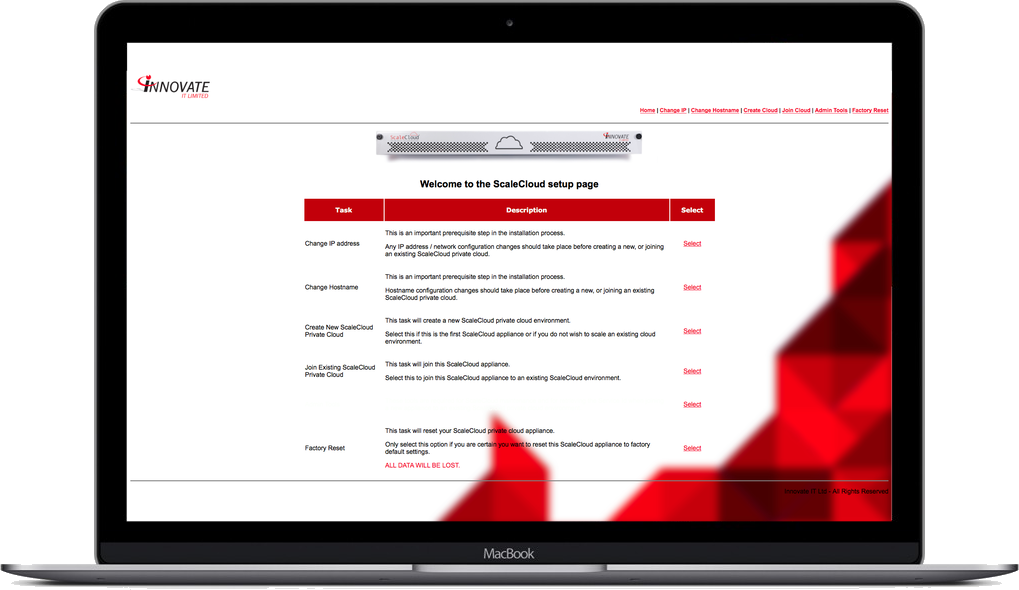 Connect To Existing Infrastructure Turn your storage into cloud storage
Using our Stack Launcher and configurator you can now connect to external storage directly from the ScaleCloud appliances.
Utilise your existing storage
Increase the storage capacity of your cloud
Provides the option to launch cloud instances on high speed local ScaleCloud disks and on external storage
Create block volumes on local and remote disk
Enables remote off-site backup options
Replicate volumes and take snapshots using your network storage features
Download a copy of our digital brochure.
We are partnered with a global data centre provider, so we can even arrange hosting for you.