You don't need a cloud technician or support engineer for your ScaleCloud®.
It's already got one.
Next business day hardware fix or replacement
Software training and Innovate support
Calls us for support over the phone
Online support via our ticketing system
Regularly updated tutorials page
Speak with the ScaleCloud® developers
Quality
When you purchase a ScaleCloud appliance, you also get the added value of the combined knowledge at Innovate IT Limited for help and support. We are confident you will be satisfied with the quality, reliability and ease of use of our products and should rest assured that we provide hardware and software support for 3 years with every ScaleCloud® appliance.
Reassurance
Because we have developed our products in-house, we know and understand them inside out. We have performed countless hours of testing, rebuilding and deploying in order to make the setup process as straight-forward and trouble-free as possible. We have taken care of the tricky setup of the private cloud suite of services and wrapped a user friendly web based configuration portal around it.
All this support is included in the appliance price. No subscriptions or further support costs to pay.
Strategically we have chosen to combine the World's most successful open source operating system with the World's most adopted open source cloud software. Innovate IT Ltd has adopted the OpenStack software stack, created optimised configuration scripts and wrapped the whole installation procedure in a unique web interface, which after inputting your businesses' minimal bespoke network information, is used to configure the cloud services in the background while you wait. This takes the unenviable task of trying to manually configure the cloud services away from humans, and therefore away from potential human error.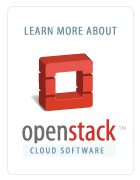 The OpenStack® Foundation steers the OpenStack cloud ecosystem and is a global player in Enterprise cloud 'as-a-service' enablers. The OpenStack community consists of hundreds of companies ranging from start-ups to blue chip corporations. All working together to develop and maintain cloud services at a very high standard. With an active developer community in the tens of thousands bugs are squashed very quickly and new features are released at each 6 month release cycle.
Canonical® has successfully and rigorously maintained the Ubuntu® family of operating systems for many years. And with a well defined roadmap we can be confident they will continue for years to come. Not only do they perform an incredible and consistent 6 monthly operating system release cycle, they also maintain the software packages. This is to say the security and integrity of the software is of a very high standard. A standard that is trusted by thousands of companies, globally.